Meet our team
of specialists.
Staff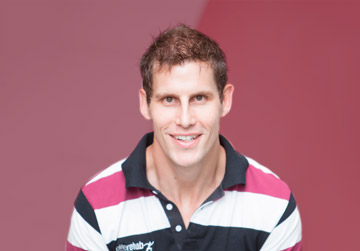 Tim McGrath
PhD. Head of Athlete Research Lab. APA Sports Physiotherapist & APA Musculoskeletal Physiotherapist. Grad Dip ExtScope Physio
---
Tim has extensive sports physiotherapy experience. He holds a PhD from the Research Institute of Sports & Exercise (UCRISE) at the University of Canberra on the topic of ACL rehabilitation of the knee. He is the current Physiotherapy and Medical Services Co-Ordinator at St George-Illawarra Dragons in the National Rugby League Competition (NRL). He has previously spent an additional 10 seasons working with other high level sporting teams, including, Port Adelaide Football Club in the AFL (2015-2017), Brumbies Super Rugby Team (2006-2011), Sale Sharks Rugby Football Club United Kingdom (2006), and Canberra Raiders NRL Team (2004-2006). He has also toured with the Australian Men's Rugby Sevens Team in the HSBC World Series (2013-2014). Tim has also enjoyed brief stints with other high level sporting teams such as the Tongan National Rugby Team and the Australian Rugby Union. He also consults to the ACT Comets and ACT Meteors Cricket Teams.
In addition to his undergraduate Physiotherapy degree and PhD, Tim has completed a post-graduate Master's Degree in Sports Physiotherapy and Musculoskeletal Physiotherapy. He has also completed a Graduate Diploma in Extended-Scope Physiotherapy. He is Head of the Athlete Research Lab housed within the Elite Rehab facility and developed PITCH READY® which is a precise testing system for athletes recovering from a knee injury (www.pitch-ready.com). He has lectured extensively in sports physiotherapy courses for the Australian Physiotherapy Association as well as to other health professions and has authored publications in peer-reviewed journals (see research page of website).
Tim has also previously consulted with the Canberra Hospital Emergency Department as the Extended-Scope Physiotherapist and to Occupational Rehabilitation Companies as a senior consultant.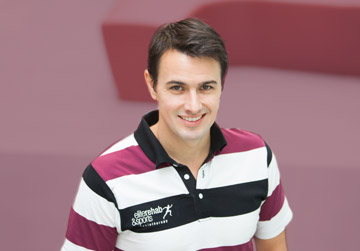 Hamish Macauley
APA Sports Physiotherapist & APA Musculoskeletal Physiotherapist
---
Hamish has extensive experience working with both amateur and elite athletes. Amongst Hamish's achievements are Head and Team Physiotherapist of the Australian Rugby Union team, the Wallabies; as well as Head and Team Physiotherapist of the Brumbies Super Rugby team. Hamish has also worked with a number of club sides including Tuggeranong Vikings and Royals in Canberra, and Southern Districts in Sydney. He currently consults to the Ricoh Black Rams Rugby Football Club in Japan and is the?Senior Physiotherapist for Geelong Football Club in the AFL. Outside of rugby Hamish has worked in football and athletics. Recently Hamish has consulted to the Australian Institute of Sport and The Canberra Hospital Emergency Department.
Hamish has degrees in Physiotherapy and Human Movement. He also holds a Masters of Sports and Musculoskeletal Physiotherapy. Hamish currently lectures on sports physiotherapy courses and supervises Sports Physiotherapy Masters students. Whilst he treats all injuries, he has a special interest in shoulder rehabilitation. Hamish is also currently registered as a NDIS provider.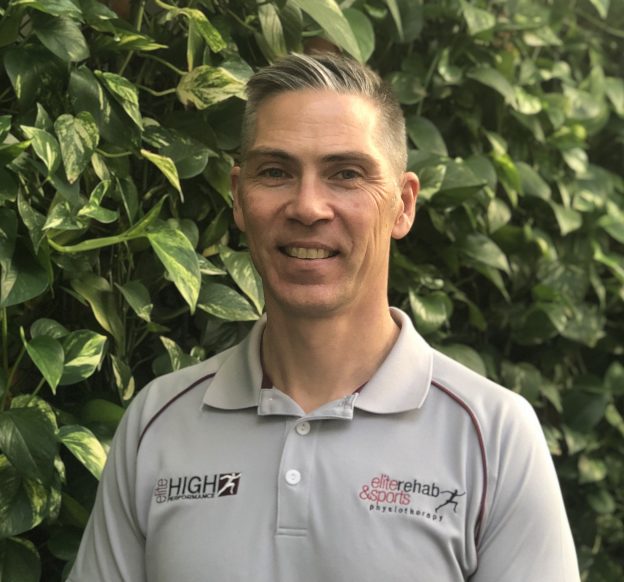 Dr Martin Wollin
PhD, M App Sci Phty, PG Cert Sports Phty, B Phty, APA Sport and Exercise Physiotherapist
---
Martin is a highly experienced and qualified Sport and Exercise Physiotherapist. He brings applied skills and extensive experience from high performance sport that includes the English Premier League, A-League, National/Olympic Teams and over ten years at the AIS. He completed a PhD at La Trobe University, Sports and Exercise Medicine Research Centre on clinical testing, prevention and management of groin and hamstring problems in football (Soccer). Martin continues to lecture and present internationally and nationally on these topics. He is Chair of Football Medicine Association Australia. He holds a Football Conditioning License and has completed practical Level 2 Strength and Conditioning training.
Martin consults by appointment on the management of sport and exercise related lower limb injury with a special focus on hip & groin and hamstring cases. He runs special group exercise sessions for the prevention and rehabilitation of groin and hamstring problems.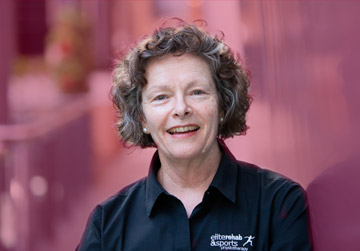 Helen Mussett
APA Musculoskeletal Physiotherapist
---
Helen joins our practice having worked in Canberra since 2001. Her main interest continues to be found on post-operative shoulder rehabilitation. She also works with patients following hip and knee joint replacement surgery. Before moving to Canberra Helen had her own private practice in Sydney. Helen?s past working experience has included work in England and Switzerland in clinical and teaching capacities. She has also worked as a clinical educator and lecturer in Musculoskeletal Physiotherapy at the School of Physiotherapy at Sydney University.
Helens qualifications include a Bachelor of Applied Sciences in Physiotherapy and a Graduate Diploma in Manipulative Physiotherapy, both from the University of Sydney. She is a member of the Australian Physiotherapy Association and a titled member of Musculoskeletal Physiotherapy Australia.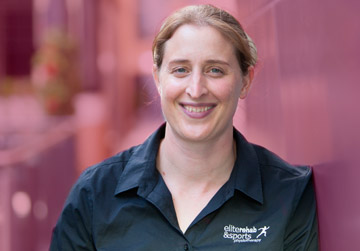 Donna Martin
Physiotherapist
---
As an Olympian in the sport of rowing, Donna understands the demands of elite sport and the need to manage injuries through training and competition loads. She is dedicated to providing quality, evidence based treatments and uses a variety of manual techniques to ensure goals are met.
Donna completed a Bachelor of Applied Science, majoring in Sports Science with research Honours in the field of elite rowing. She began professional work as part of the Sports Science Team at the AIS before completing a Masters of Physiotherapy where she attained five University awards including 'Best Overall Academic Performance'.
For the past 10 years Donna has worked closely with Canberra's orthopaedic surgeons, within private hospital and practice settings. She is currently involved with master and school level rowing programs, is a Rowing Australia preferred practitioner and state level selector. Donna also forms part of the teaching team within the University of Canebrra Physiotherapy program.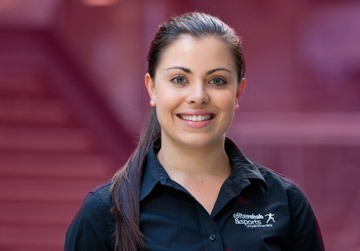 Megan Dennis
Physiotherapist
---
Megan completed her undergraduate degree in Applied Science (Human Biology) at the University of Canberra. She then completed her Masters of Physiotherapy at the University of Canberra. Megan is currently completing her Physiotherapy Sports Masters degree through La Trobe University. Megan has previous experience working with post-operative orthopaedic patients at Canberra Private Hospital. She also has a strong interest in body building and powerlifting along with a range of sports including Netball and Rugby. Megan?has worked for a number of seasons in AFL and has assisted with ACT Brumbies 7s, UC Vikings NRC and ACT Brumbies Runners. She is currently the Head Physiotherapist for Royals Rugby Union Football Club.
Megan has a particular interest in Clinical Pilates for postural control of hip, lumbopelvic and neck regions and is a Level 2 Certified matwork instructor. She also has special interests in dry needling, sports injury rehabilitation and post-operative rehabilitation. Megan is also currently registered as a NDIS provider.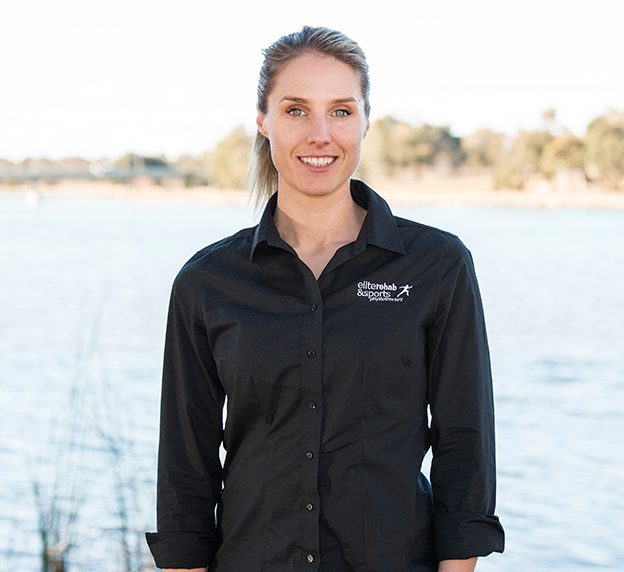 Kylie Faulks
---
MClinPhysio – Continence and Women's Health (Currently Completing)
M Physiotherapy
Grad Cert. Human Movement
B Coaching Science
Australian Physiotherapy Associating – Continence and Women's Health
Originally graduating from the University of Canberra, Kylie completed the Masters Physiotherapy program in 2012, and is currently finalising her Masters in Women's Health (Clinical Physiotherapy) at Curtin University, Perth.
Since graduating, Kylie has developed a keen interest in the area of Women's Health and is experienced in treating a range of Women's pelvic conditions including: pelvic girdle pain, pelvic floor rehabilitation, incontinence, pelvic organ prolapse including pessary fitting, antenatal conditions, postnatal assessments and rehabilitation.
As a physiotherapist, personal trainer and mother of three, Kylie brings a range of experience to her role in Women's Health. She is passionate about in keeping women healthy and active throughout the childbearing years, and focusses on optimising pelvic health to improve whole body function and quality of life for each of her patients.
With a background that includes qualifications in Coaching Science & Human Movement and Personal Training for over 10 years, she is also passionate about finding the right balance of exercise, good nutrition and relaxation to lead the best life possible.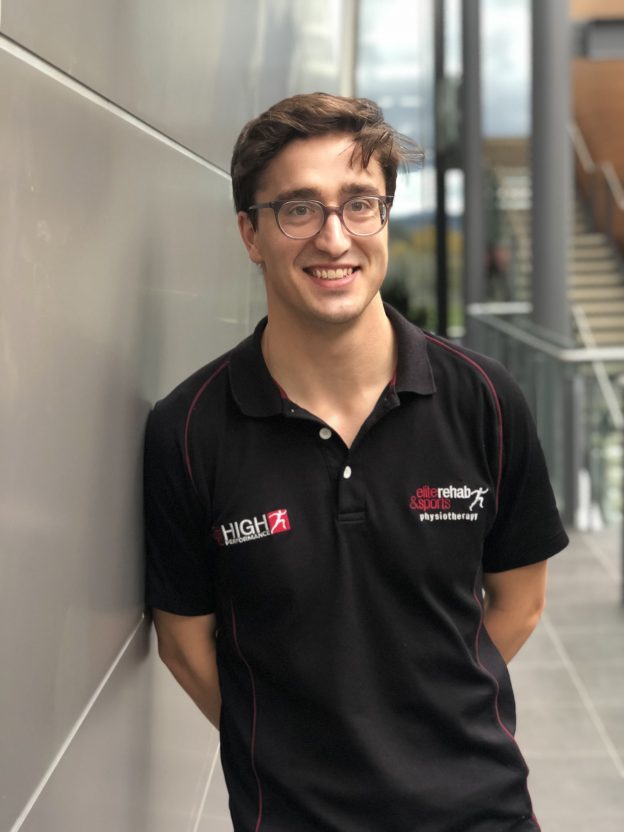 Liam Phillips
Physiotherapist
---
Liam graduated from The University of Melbourne with a Bachelor of Physiotherapy (Honours) in 2012 and is currently completing his Masters in Sports Physiotherapy through LaTrobe University. He has worked in private practice for the past five years, three of which in Melbourne and then returning to Canberra for the last two years. During his time he has had the Head Physiotherapist roles at GWS Canberra academy, Werribee Tigers VFL, Port Melbourne Cricket Club and Old Geelong FC. He has also had lesser roles with Melbourne Heart, Ainslie FC and Athletics Victoria.
Liam has a passion for physiotherapy and its role in the healthcare system and currently sits on the Sports and Musculoskeletal Physiotherapy Boards in Canberra. He believe strongly in ensuring all patients have a clear understanding of their injury and then creating a plan with them to return them to a higher level of performance then when they started. Liam has particular interest in Hip and Shoulder injuries but has the experience and passion to help with all injuries.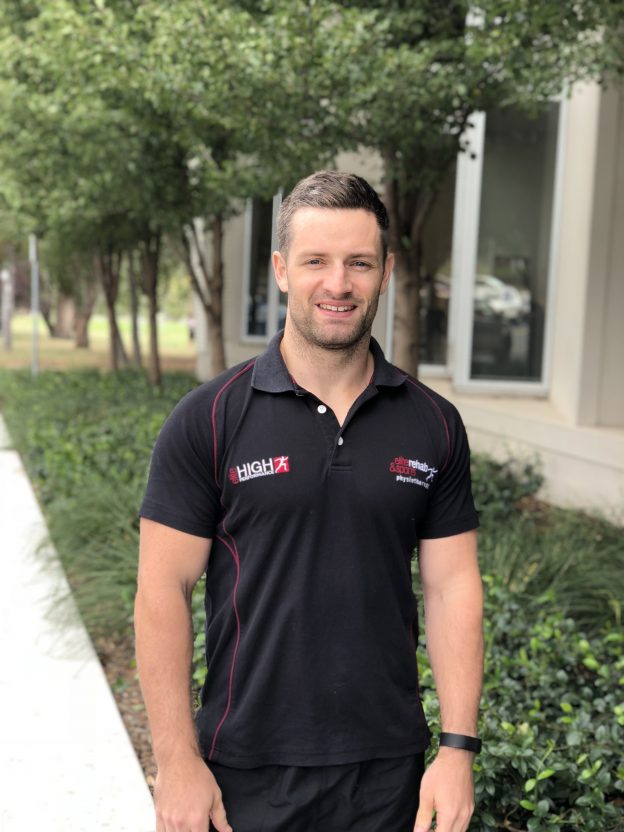 Stuart Dyer
APA Sports & Exercise Physiotherapist
---
Graduated from the University of Notre Dame in Fremantle in 2009 and recently completed his Masters of Sports Physiotherapy at La Trobe University. I worked in the public health system for 4 years after graduating before moving to the private sector where I have worked for the past 5 years.
Experience working with a variety of sports, including rugby union (Southern Inland Representative and Brumbies Provincial rugby teams), AFL (North Wagga Saints), touch rugby (WA Men's team), soccer (Riverina Rhinos), netball (Randwick Netball Association), CrossFit and cricket. Currently working with ACT Meteors and Cricket ACT.
Keen sportsman with a background in rugby union, cricket and CrossFit. Particular interest in treating knees and facilitating return to sport but has the experience to help deal with all injuries.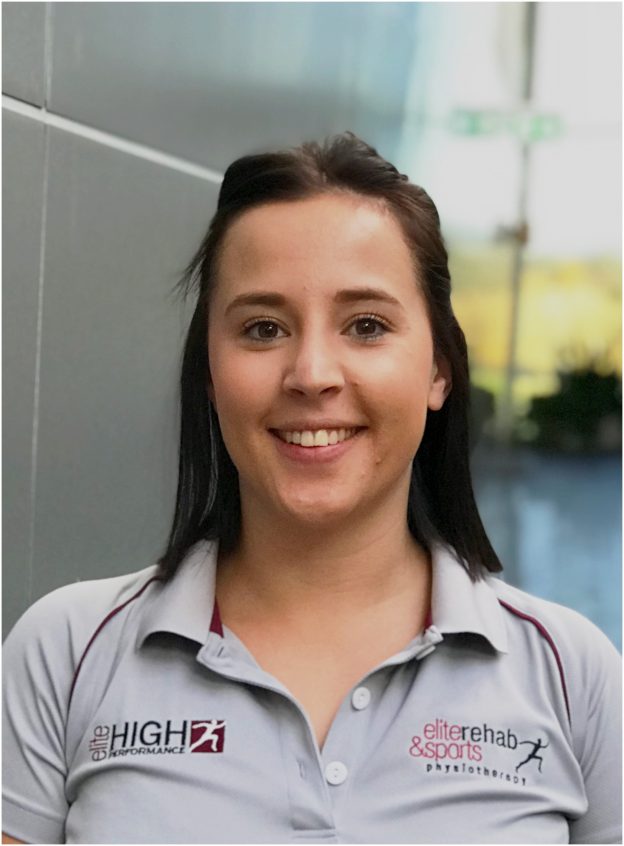 Olivia Dawson
Physiotherapist
---
Olivia joins Elite after completing a Bachelor of Physiotherapy at the University of Canberra. She has worked with a variety of sports including Rugby, AFL, Soccer and Ice Hockey.
Olivia has a strong interest in sports injury rehabilitation and Clinical Pilates, though welcomes all types of injuries. She has played Ice Hockey for over 12 years, competing at an elite level. She has represented the ACT for a number of years, played 6 seasons interstate with Melbourne Ice in the Women's Ice Hockey League and has represented Australia in 4 International Tours.
Olivia's passion and experience allows her to relate to sporting individuals and can understand the demands and difficulties individuals face.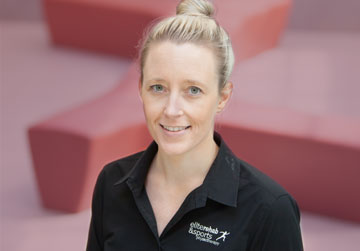 Erica Stephens
Accredited Sports Dietitian, Accredited Practicing Dietitian, Accredited Level 1 Anthropometrist
---
Erica is an Accredited Sports Dietitian as well as an Accredited Practising Dietitian and Level 1 Anthropometrist. She has earned the International Olympic Committee Diploma in Sports Nutrition, a Master of Nutrition and Dietetics (Griffith University) and a Bachelor of Applied Science (Food Science and Nutrition; University of Queensland). Erica is a member of Sports Dietitians Australia (SDA) and the Dietitians Association of Australia (DAA); the two peak organisations for nutrition in Australia.
In the past, Erica has been employed as a Clinical Dietitian in the Yass Hospital and Community Health Centre. She now works privately while also consulting to the Australian Institute of Sport; Centre of Excellence Boxing program.
Erica has also had extensive experience as an athlete, representing Australia in the sport of Taekwondo.
Erica provides private consults on all aspects of nutrition. This can include assistance with weight loss, weight gain, body composition assessment and monitoring, chronic disease management, fuelling and hydrating for training/competition as well as general health. Erica also regularly presents seminars and information sessions for teams, clubs and various organisations around Canberra and across Australia.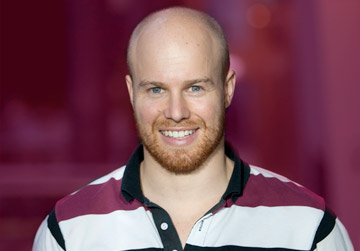 David Slater
Athletic Performance Coach / Exercise Physiologist
---
David completed both a Bachelor of Coaching Science and post-graduate Masters of Exercise Physiology at the University of Canberra. He has experience writing, coordinating and monitoring various rehabilitation programs for musculoskeletal, cardio-pulmonary and metabolic conditions.?He has extensively developed and implemented a variety of rehabilitation programs to recondition both athletes and members of the general public from injury back to their chosen professions and activities. David is currently the Head Strength and Conditioning Coach for the Russian Rugby Union Team since 2016 and Royals Rugby Union Club since 2010.
In addition to his Exercise Physiology qualification, David is also an ASCA-accredited Athletic Performance Coach, and proudly includes GWS AFL Academy and Elite Rugby players amongst the athletes he has managed within his high performance group. He also prepared former Australian Heavyweight Boxing titleholder Ben 'The Guvnor' Edwards to his title in 2015. Prior to starting at Elite ?David previously undertook an Athletic Performance internship at the Brumbies Super Rugby Franchise. David is also a registered NDIS provider.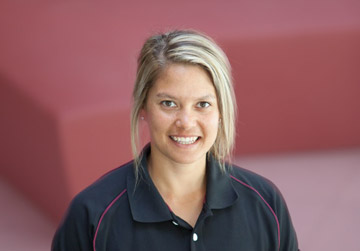 Ange Reakes
Exercise Physiologist / Athletic Performance Coach
---
Ange joins Elite having worked as an ESSA-accredited Exercise Physiologist and Exercise Scientist in Sydney since 2011. She completed a Bachelor of Human Movement from UTS in Sydney and is currently completing a Masters of Exercise Science (Strength & Conditioning) through Edith Cowan University. In addition to her musculoskeletal and rehabilitation experience, Ange is currently registered as a NDIS Provider and has a clinical interest in patients with a disability through her work with the Cerebral Palsy Alliance.
Ange has extensive experience as an elite athlete, having represented NSW and ACT in Cricket and has also represented Australia at U21 level. She currently is contracted to the Sydney Sixers in the Women's Big Bash League. She is a current member of the International Weightlifting Federation (IWF) and is an ASCA-accredited level 2 Athletic Performance Coach.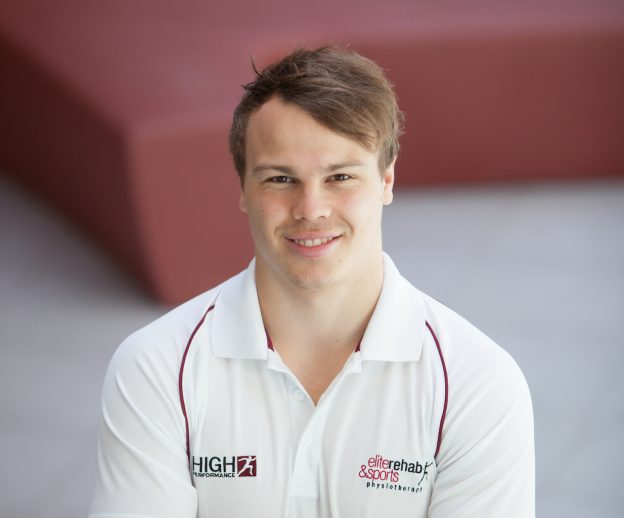 Liam Slater
Accredited Exercise Physiologist / Athletic Performance Coach
---
Liam joins Elite having completed a Bachelor of Exercise Physiology and Rehabilitation as well as a Graduate Certificate in Human Science at the University of Canberra. In addition to his clinical experience as an Exercise Physiologist, Liam has worked with a number of sporting teams in a performance capacity, including ACT Men's, Women's and Youth Sevens Rugby Teams. Liam is currently the Head of Strength and Conditioning for the Belconnen Magpies AFL Club. He has a particular interest in monitoring training load, and has been instrumental in establishing systems used as part of Elite's performance programs.
In addition to this, Liam has also played rugby to a high standard, including Royals Rugby Union, ACT Brumbies Sevens and Runners Programs as well as being part of the inaugural NRC Buildcorp 2014 UC Vikings Squad.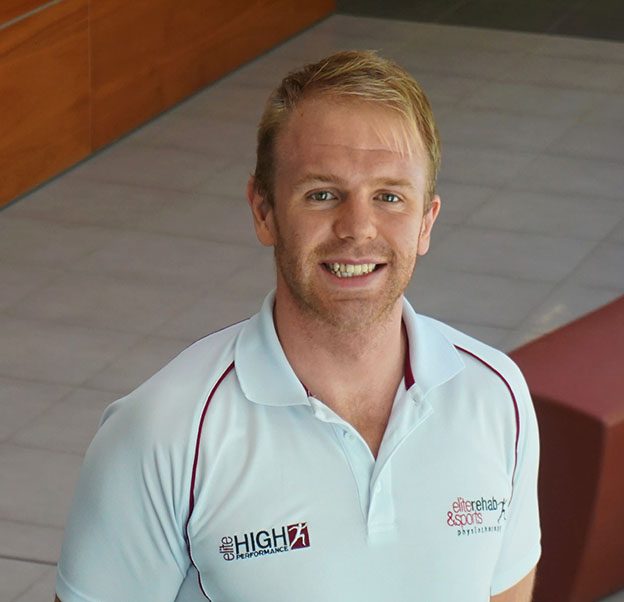 Matthew Hogan
Exercise Physiologist
---
Matthew recently graduated from Sydney University with a Bachelor of Applied Science (Exercise Physiology). He has moved from Sydney to Canberra, to join Elite with his first graduate job. While at University Matthew worked in several fields of rehabilitation, such as multiple sclerosis and dementia care, helping him build experience in these areas and provide treatment in various situations.
Matthew has played Rugby League for 15 years, as well as previously being a high level 400m sprinter, competing at state levels.?Matthew has an interest in all levels of patients and rehabilitation, in particular he enjoys working with those affected by neurological and spinal conditions, as well as Alzheimer's disease and dementia. Matt is also a NDIS registered provider.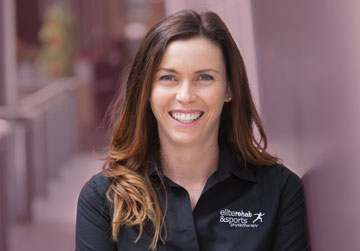 Karen McGrath
Practice Manager
---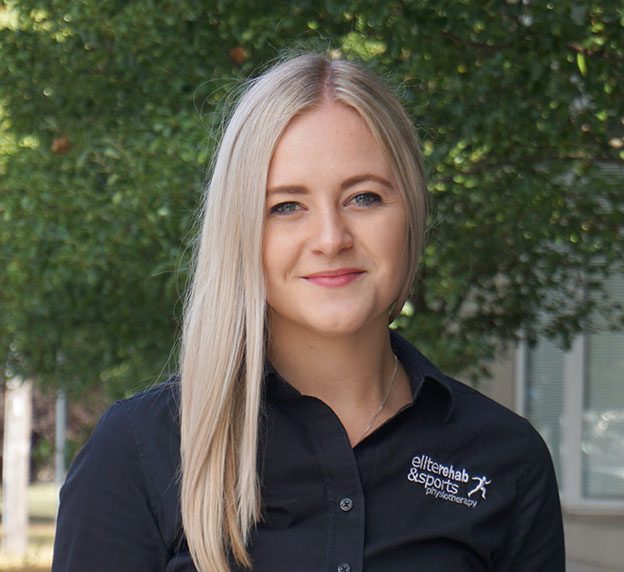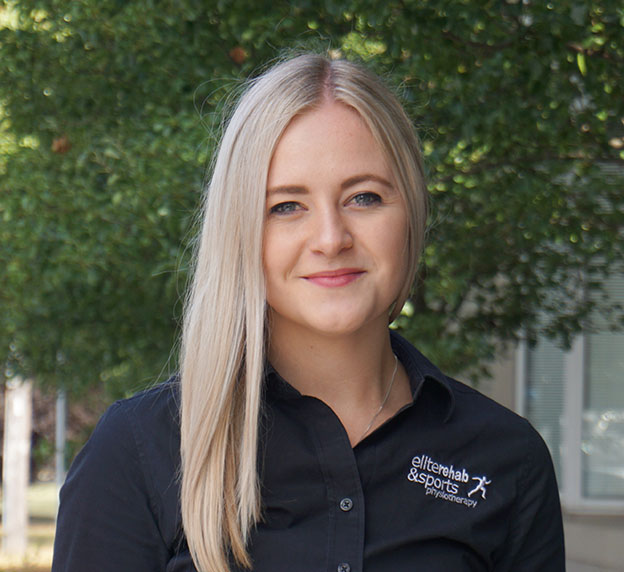 Tash Hart
Assistant Practice Manager/Receptionist
---
Currently studying a Bachelor of Physiotherapy at the University of Canberra.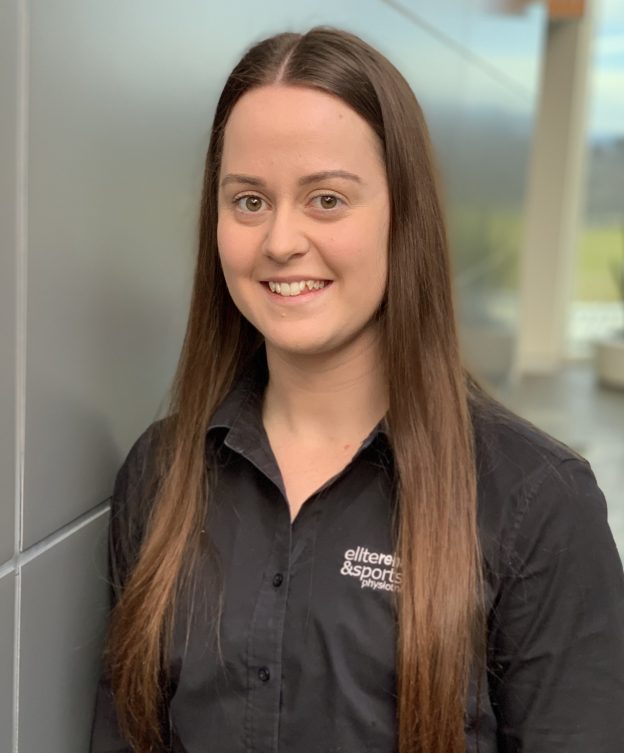 Stephanie Roots
Receptionist
---
Currently completing her Masters in High Performance Sport at the University of Canberra.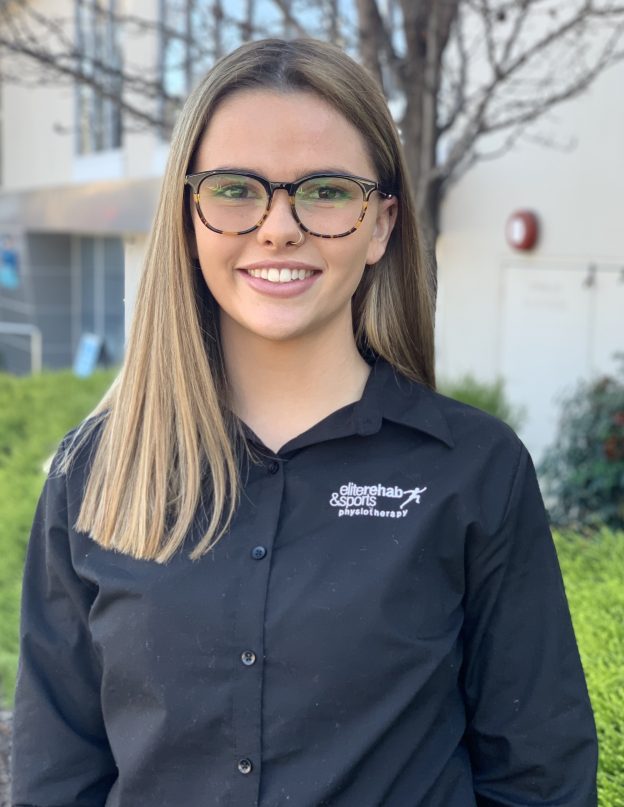 Zoe Williams
Receptionist
---
Currently Studying a Bachelor of Nursing at the University of Canberra.