Dietetics
Elite Rehab is pleased to offer Sports Nutrition and Dietetics' with our accredited sports dietician Erica Stephens (BAppSc, MNutrDiet) to compliment our existing sports physiotherapy, exercise physiology, hydrotherapy and strength and conditioning services.
Erica earned her Bachelor degree in Applied Science (Food Science and Nutrition) from the University of Queensland and completed her Master of Nutrition and Dietetics at Griffith University. Erica is an Accredited Sports Dietitian, an Accredited Practicing Dietitian, an Accredited Level 1 Anthropometrist, and has had extensive experience as an athlete, representing Australia in the sport of Taekwondo. Erica is a member of Sports Dietitians Australia (SDA) and Dietitians Association of Australia (DAA).
Services offered at Elite Rehab:
Individual diet analyses
Weight loss for general health and injury prevention
Personalised meal plans for competition, training and recovery
Body composition testing
Eating Disorders
Tailored supplementation advice
Educational Seminars
Please contact the practice for referrals. EPC, compensable and private patients welcome. HICAPS available.
TIPS FOR INCREASING MUSCLE MASS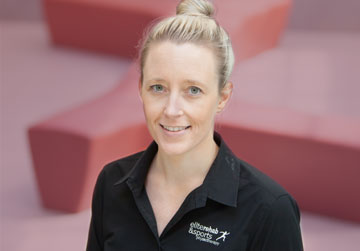 Our philosophy is simple: provide the kind of high quality care and treatment we would expect both for ourselves and our families.